5
December 24th, 2010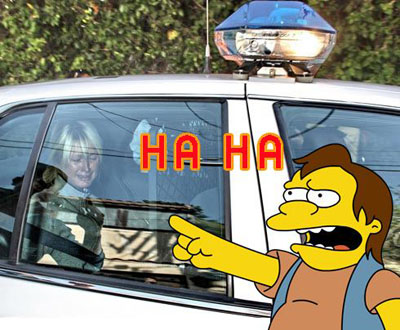 Greetings friends! Yes I kinda sorta missed 4 days in the Chrissie blog plan. Life got in the way and has left me facing Christmas as a huge sad panda. Booooo. But to my delight, AFL has delivered a delightful Christmas present for me in the form of their wang-exposing photo scandal.
I'm a living breathing example of schadenfreude. As a code, I really dislike AFL so this whole drama is just delicious for me. And with all the Serious Litigation, the carefully worded public statements … it's all so perfectly-organised! Bitches are like Scientologists! I'm worried I'll start being tailed by a black SUV, my phone will be tapped and Tom Cruise and Andrew Demetriou will magically appear at my door and start issuing veiled threats.
Meanwhile there were some epic lolz provided by this guy, an AFL fan who said we are 'everything that's wrong with women and sport'. AWESOME. Almost as good as that time we upset cricket nerds by blogging at Cricket Australia and subsequently 'ruined cricket'. Good times.
Now, on with the Christmas post.
On the eleventh day of Christmas
Oh Errol gave to me
Footy players trying to model (volume 2)
Now you've already seen and heartily loled at volume one. If you haven't go and read that hilarious shit NOW. For today's blog I will be demonstrating the following theory- if there's anything funnier than footy players trying to model, it's footy players trying to be sexy while trying to model at the same time. HELLO AWKWARD.
Let's have a look at my favourite sub category in awkward modelling : Naked Footy Players Holding Objects In Front Of Their Crotch. Behold, the hilarity!
Nips Farah cares not for occupational health and safety laws whilst renovating his new duplex.

Tom Learoyd-Lahrs finds riding jodphurs too binding.

This is not what Sandor Earl had in mind when he joined a chain gang.

Beau Ryan shows little respect for his 2010 Best and Fairest award.
Ben Ross finds a novel use for plastic topiary.
Hot damn, don't footy players love some pube trimming? It's a wonder they even get time to train. Methinks the boys above will be hoping Santa delivers some whizz bang hair clippers tonight.