7
January 17th, 2011
Is there any sweeter feeling? As of today it's only 53 sleeps till NRL season 2011 starts. That means only 53 sleeps until nerds like us have an excuse to spend our weekends screaming at sportsmen at footy grounds or on the tv instead of having to, you know, leave the house, wear proper shoes, and pay $17 for cocktails on a Friday night.
Who's down with that kind of stuff?
Sorry, who's down with that kind of stuff OTHER than most girls?
Not us, is the answer. We prefer a $4 meat pie and the luxury of reclining on a grassy hill while other humans perform feats of strength and daring for our entertainment.
This is as opposed to what has happened over the past few weeks, where I recline on my chair at work and watch Australia (usually) lose at cricket. In between, I eat takeaway edamame and bitch about how if the umpire can't call no-balls when they happen, and only refers them when a catch is taken then WHAT IS THE BLOODY POINT OF THE RULE? It's only being used like … 5% of the time.* Travesty! It fills me with the same kind of rage as when tries are disallowed for a step into touch by the video umpire even though there was a touch judge right there the whole time. If he stepped out, wouldn't the touchie have called it? Isn't that his JOB? WELL ISN'T IT?
* disclaimer: am not mathematician. insert your own percentage here.
I just get so mad sometimes, you know? And you know what helps?
Yep, that's Tim Bresnan of the English cricket team. Tim Bresnan, the man with the best and crispest Sprinkler dance moves in England. He's celebrating winning the Ashes. Specifically, he's celebrating by being a dancing dynamo. Bresnan, you fill me with so much joy. I wish you were Australian. Feel free to wait till you're about to check in for your flight home, tell your teammates you could smash a Boost Juice, and sneak off in a cab, kk?
Also we seriously have to thank various sporty (and non-sporty) dudes for coming up with ways to raise money for Queensland that idiots like us can get involved with. We're too far away – and probably too unfit – to help in person, but we still want to do everything we can and give all the money we can, and nothing makes you realise how much of a community Australia really is like sport.
I even got completely sucked into watching two hours of the Rally for Relief in Melbourne … but how could I resist?

SPORTS CHICK CHEST-BUMP!
Andy Murray head-butting the ball. Pat Rafter being lovely like Jesus. Novak Djokovic playing winners while sitting on the floor drinking water. Rafa Nadal telling the crowd to "BE GENEROUSLY!" Novak Djokovic offering to put his hands down Ana Ivanovic's dress to fix her mike. Novak Djokovic and Andy Roddick making ass-jokes … when I see that kinda shit, my brain just says yes, please!
No wonder I ended up donating again.
I also learned educational things. Like that Lleyton and Bec Hewitt are raising a tiny troupe of aryan babies. So blond!
And how Rafael Nadal can totally speak English, he just sometimes pretends not to. He's the Fui Fui Moi Moi of tennis!
My only hope is that Fui is one of the Parramatta players who head up to Queensland tomorrow to help first hand with flood relief. You need giant objects moved? You need this man.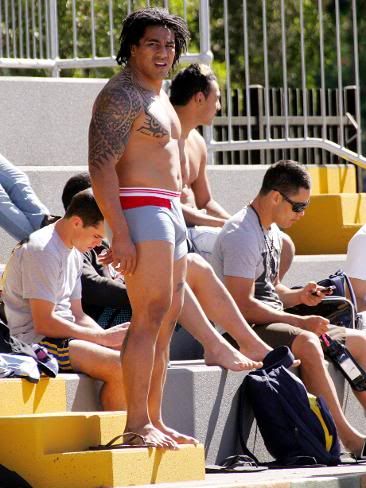 We also hope that Mark 'Piggy' Riddell, his lady and his new little baby (piglet?) are doing well.
disclaimer:may not be actual child in question.
And if you now need to close this window, well, why don't you open this one?
Tennis pics: Getty Images