14
June 21st, 2009
So as y'all know, June is dedicated to Women in League. Why? Because ladies who love league are awesome. It's a universal truth.
So to raise money for breast cancer, my beloved Dragons didn't stop with the wearing of the Pink V. Oh no. My babies went ahead and….wait for it…decorated bras. Yes, my boys are not just awesome footy players, they are now also lingerie designers. So multiskilled!
It's like when I participated in my highschool's production of Into The Woods as a dancer, costume designer and manufacturer (fairy wings were my speciality) AND a gun makeup artist. Do you know how hard it is to create convincing wolf makeup on a public school budget?  We were straight up deprived. I also had to share a dressing room with the male leads because and I quote 'the dancers won't mind getting changed in front of boys'. OH OKAY THEN.
Errr anyway. Let's take a look at some of my boys' booby creations shall we?
Unsuprisingly, Darius Boyd has gone the red tassels in the nipple area. I don't know why I find his choice is so predictable, I just do. I can actually imagine him whacking on the bra, swirling the tassels around and giggling like an idiot. All while 'Cherry Pie' by Warrant plays in the background. Yep.
Justin Poore, a tassel lover? Now this IS a suprise. He seems so….chaste. And you think you know someone!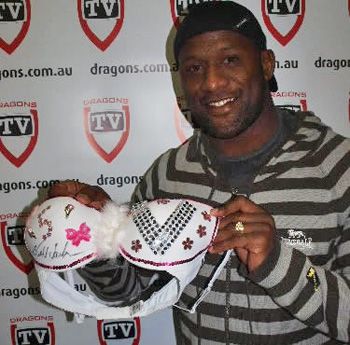 Dell's is so disco! Hardly a shock considering his pre-game dance warm up. Did you all see it last week? One word – AMAZING. You just know he is listening to 'Earth, Wind and Fire'. Sing it with me kids! Bad-de-ya…say you do remember, bad-de-ya…dancing in September.
[Kiki and I disagree on this if you're wondering. My guess is he was rocking out to Kool and the Gang. Get yo back up off the wall! – S]
I'm not quite sure why Jeremy Smith and Luke Priddis were forced to do this activity as a pair. Either way, that bra is outright hideous. Where is the design vision in this, hmmm? You would think with not one but TWO brains they could come up with something a bit less visually offensive than that. This is some broke-ass stripper from Kalgoorlie shit right there.
HAHA Hornbag! Oh my. Why is he so cute? And why did they give him such a tiny bra? Are they insinuating if he was a lady he would be flat chested? I love the dainty way he's holding it, like it's a historical artefact and he doesn't want to cause it any harm with the acidity of his skin.
ps – Hot damn, that's alot of red fluff. It looks like Elmo road kill.
MATT PRIOR WHY YOU SO MAD? Did Dell steal the last of the sequins or something? Or are you shitty you got a giant nanna bra? I enjoy the placement of the roses in the shape of crucifixes. Fabric flowers for Jesus! This photo is amazing x 1000 and I am going to print it out and put on the 'Wall of Lolz' in our offices.
AWWWWW BRETTY! Why you so cute baby? Squeeee! Look how proud he looks. Like a cat that just dropped a headless bird at your feet. It has feathers and everything! New from Bonds – The Dead Bird Bra, by Brett Morris.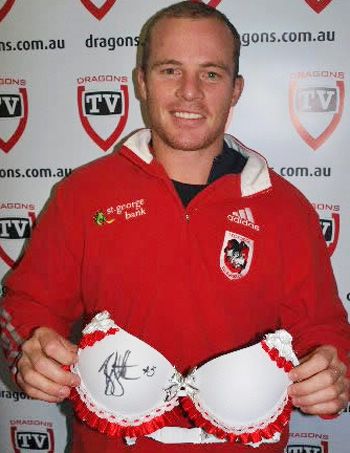 Aaaah Beau Scott and his ruffles. Look at the work that's gone into that bra! It's so…neat. I bet Beau was the star of his Year 8 Home Economics class. Who woulda thought that such an aggressive player would be so particular when it comes to craft?
Hot Bitch are they … are they butterflies in the shape of V's? REALLY? Lolz 4evaaaaa. Who know Coops had such delicate sensibilities. The thought of that sex machine of a man hunched over a bra gluing on fabric butterflies with a hot glue gun is literally the funniest thing in the entire world.
Now, I have made fun, because well … this is Errol. But I am so so proud of my club for doing something so adorable and altruistic.
The bras are being auctioned off and all the proceeds go to Joanne McKay Breast Cancer Foundation. The foundation was set up in memory of the late Joanne McKay, wife of ex Dragons legend, Brad, who sadly lost her battle with cancer in 2002. Go and check out the auction.