20
October 11th, 2010
Struggling after the first full week since the NRL season ended? Believe me, we are too. Two nights ago I dreamed Tim Mannah dressed up as Aladdin and came with me to a costume party. TRUE STORY. He was wearing the vest and the fez and everything (I was dressed as Jasmine). I took this as a sign from the universe that we needed a way to distract ourselves until the Four Nations started.
Best way to distract ourselves? With everyone's favourite pointless and slightly offensive awards: the Errols. *
* in no way endorsed by the Estate of Mr. Flynn.
Today, we're revealing the first category of the 2010 Oh Errol Awards, and asking you to vote for who you think should take it out. There'll be a new category up every day this week and the big announcement for the lucky winners will be out next Friday. I know, I know, it's too exciting for words. Intern John-John refuses to even consider that he won't take something out and is currently practising his acceptance speeches in the powder room mirror. So before he starts making out with himself again, let's hit the first category, one that's very dear to our hearts.
THE MR. CELLOPHANE AWARD FOR THE MOST OVERLOOKED MAN IN LEAGUE
Before you ask, maybe I did name this after a song from the Broadway musical Chicago. It's just how I roll, okay? With glitter, and spangles.
And while I was googling to find the YouTube clip of John C. Reilly singing it, I also found this little piece of internet magic:
OH, DRUNK FRAT BOYS YOU MAKE ME SMILE. But without further hilarious, cling-wrapped homo ado, let's get down to the nominees.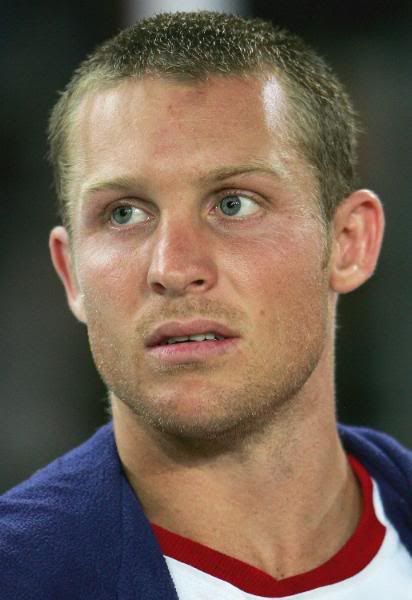 BEN "HORNBAG" HORNBY
Also fondly known as Captain Courageous by the Dragons faithful. Hornbag is the reigning premiership-winning Captain. He's a halfback, a general, a stoic. He's played 85 billion games. In the Grand Final he was brilliant on his feet, his passing was on song and he made some damaging breaks. He was also that dude who held up the trophy at the end.
And do you know who knows these facts? No one outside the Illawarra region. Straight up, Hornbag could appear on a most wanted poster at NRL headquarters and no one would turn him in because he's Mr. Cellophane in a red and white training tracksuit. As our resident Dragons fan Kiki would say: "just because he's pale like milk and his eyelashes/eyebrows/facial hair are invisible from a distance!"  That's no reason to forget Captain Courageous. So let's all take a moment to say as one: WE SEE YOU, HORNBAG.
MICHAEL "WANG DANCE" ROBERTSON
Oh, Robbo. There's a certain irony in the fact that the most notorious thing Robbo has ever done was dance naked on national television with his head cut out of screen. What a metaphor for his relationship with the public. Remember when he scored a hattrick of tries in the Grand Final thrashing of the Storm? Yeah, no one else remembers either. And when he offloaded to give teammate Steve Menzies a fairytale farewell final moment instead of taking it himself? Again, no one else does, so don't feel guilty. Robbo's the Barbara Hershey to Dave Williams' Bette Midler, the Jan Brady to his Marcia. I even wrote a post about it, which I assume no one remembers either.
SCOTT "SNUGGLIEST MAN IN LEAGUE" PRINCE
One question: what the HELL does Scott Prince have to do to get back in a rep side? He's either the second or third best halfback in league along (depending on your personal persuasion) along with Johnathon Thurston and Cooper Cronk. He took home a Dally M award for halfback of the year. But even with JT hobbling around on crutches he can't get a run in the Maroons or Kangaroos squads. It's a TRAVESTY. What gives, selectors? Even Prince Scotty the Caramel's brilliant on-field arguments with referees have taken a back seat this year to Robbie Farah, JT, Cooper Cronk and the bitch-tastic Braith Anasta.
All pics: Getty Images
Person you wanna vote for isn't there? Leave it in the comments, darlings.