19
March 15th, 2009
Welcome back, babies!  Have you missed our footy recaps in the off-season? My guess is yes.  Because we are funny bitches.  Actually, that's a lie.  More like football is a funny bitch.  How did we live without it for so many months?
I've already cracked up once today at the news that Denis Fitzgerald wants to ban the Parramatta players from the booze.  Now you know we don't take league dramas lightly … but really, Denis?  Really?  This is the plan?  If this is the best they got, then dammmmmn league is in trouble.  In the brilliant words of Nathan Hindmarsh: "good luck policing that".
Best of all: the news crews asked the boys what they thought as they arrived back at the airport from New Zealand … and Joel Reddy was carrying a bag full of duty free booze.  Um … it's for my girlfriend? Oh yeah, this is gonna work a treat.  I'm sure the urine tests will also do wonders for player-admin relations.
Meanwhile I'm recapping the Eels-Warriors game, if you're wondering, because there is not a chance of me recapping my boys playing the Rabbitohs. That shit was brutal.  Once I peeled myself off the ground and stopped trying to gnaw off my own leg, then lost interest and ate a biscuit instead, I repressed all the memories for my own mental health.  So this is what you get.  Now onto the footy.
The boys are playing down in New Zealand, which means that the Warriors have to run onto the field through that really terrifying dripping, dark sewer tunnel that leads from the change room out onto Mt. Smart Stadium. Considering that the Warriors also wear black, and are being led out by a phalanx of little kids, the whole thing is very Law & Order: SVU. Dun-dun.

To the tunnel! Emergency in the tunnel!
They are still not running out to Patti Smith 'The Warrior', which I feel is a total travesty.  It's as if the staff down there don't even read Errol.
Because the game is at Mount Smart, we also get the Kiwi Sky commentary team. I know they have names, but I don't know them.  Let's just call them Tum and Phul.
The Kiwi boys are super emotional tonight, and to be honest, so am I.  The incredible, ageless Steve Price is about to play his 300th game of Rugby League.  But also, everyone is still in mourning for Sonny Fai, after his loss in the off-season.  The sadness on all the team and friends' faces during a minute of silence is almost too much to bear.  RIP, Sonny.
Gordon Tallis pops his head up on my TV to congratulate Pricey, and tell us all "I dunno how you can be that pretty and play in the front row".  HE IS PRETTY.  I'm so glad somebody else noticed.  And even more glad it was Gordie. I totally have a dirty old man crush on Steve Price.
Steve Price is also pretty much a miracle man because:
a) he is a Dirty Queenslander, and;
b) we somehow love him nonetheless.
How can you not love that? It's so … tender. Steve Price and Scotty Prince should be studied for science.
The game starts with the Warriors all over possession like me all over a scruffy-haired boy at the Brighton Bar … but less pervy.  One of our Errol favourites Manu Vatuvei almost dives through on the left hand wing for a try.  THE BEAST.  He's cut off his fro, but that bitch still looks fierce.
I should admit that I tipped the Kiwis in our ErrolTips competition, so I almost spill my drink in joy when Joel Moon slip'n'slides under a defender for a Warriors try.
Joel Moon has just moved down from Queensland to play for the Warriors, and I'll admit I'm not a Moon afficionado, but I'll take a wild guess that this guy: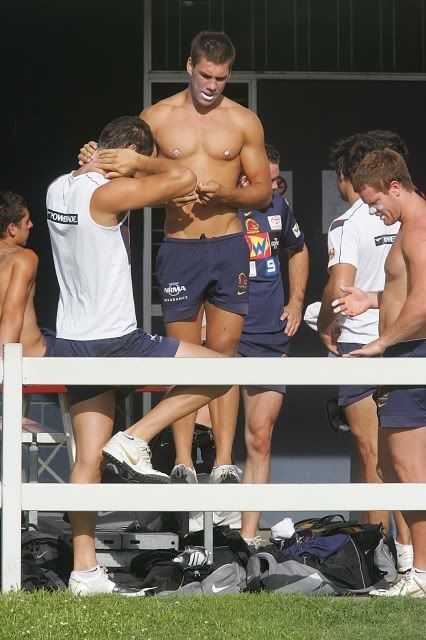 … not a big fan of cold New Zealand weather. He definitely doesn't look happy that he has to wear pants on the field.  The clothes!  They burn!
Ropati, Moon and Henderson are lurking around the tryline, and the Warriors look kinda scary today.  After teasing me for minutes, they send in Russell Packer for a try. I have never heard of this Russell Packer, which may be because I generally show little to no interest in anything that involves New Zealand.  Nonetheless, that is a cracker of a name.  I would enjoy more men named Russell in general life.

Disclaimer: May not be actual Russell Packer.
Apparently Denan Kemp is the new Kiwi kicker, which reminds me that Michael Witt has been unceremoniously booted from the team and has flounced off to … play union or something. Traitor. 12-0.
If I haven't mentioned Parramatta much, it's because they haven't done much. Krisnan Inu proves me wrong by taking a lovely catch from a high ball.  Luke Burt joins in and pops a ball to Ben Smith for an Eric Grothe, Jr try.
Did anyone else forget about Eric Grothe? I'll admit it, I did.  Which is sad, because he is kind of a hot bitch.  Things are always more emotional when they involve hot people.  Tum and Phul enjoy rubbing in the fact that back in 2005 he was playing tests, while in 2008 he was playing reserve grade with boys ten years younger than he is. It's super mean and I enjoy it.
I seriously thought he was still in reserve grade, but apparently he's been moved out of remedial and back into the big boys' class.  Good for you, mister.
In the process of crossing the line, Eric Jr also becomes the first man to flash his arse in 2009. FIRST CRACK OF THE YEAR!  His family must be so proud.  Burt converts for 12-6.
Vatuvei makes another fabulous break, and Michael Luck in his awesome retro headband comes up against Nathan Hindmarsh.  I am so completely overjoyed … Hindy's seventies hair is BACK.  *high kick*
Russell Hammond we love your work!
I like to think he found out about the 2008 Errol Awards and was so devastated not to win 'Best Hair' that he grew it back just for us.  Between this and Joel Reddy's seventies mop my pants are really enjoying this game.  What can I say?  I love a man with long hair.
Fien sets up a Hohaia try and Tum and Phul use the phrase "in the thick of things".  I shudder. [I'd like to point out that we were all chatting on msn when this happened, which meant Kiki and Sassy both e-yelled 'THUCK OF THUNGS!!' at the same time. This is the kind of behind the scenes gold you guys miss out on – lozzy] Parra's Jarryd Hayne gives away a penalty and Tum and Phul scream 'JARRYD HAYNE YOU ARE DEADSET KIDDING YOURSELF".  I love an unbiased commentary team. Can I also say that Hayne is playing in the number sux jersey and I am really uncertain that he can pull this off. It unnerves me. Anyway, carry on.
Fui Fui Moi Moi smashes the ball from Brent Tate and it's halftime. 18-6, Warriors.   Cut up the oranges!
We come back onto the field and Eric Grothe starts doing his best to be sent back to remedial class.  He is deadset Fumbles McGee.
Try to Hohaia, try to Hayne, OHMYGODIMISSEDYOUSOMUCHFOOTBALL! NEVEREVERLEAVEMEAGAIN!
Meanwhile I totally take back everything I said about Tum and Phul, because Fierce Manu Vatuvei smashes into Jarryd-with-a-Y Hayne and they carol: "that was SPECTACULAR! … if not illegal".
They have their priorities straight.
Eric Grothe knocks on and cracks it. He is thisclose to lying down and banging his fists on the ground. Someone doesn't want to have to go back to using paper scissors, am I right?
Josh Cordoba is pulled up for a penalty, which is clearly a penalty of LIES. A Warrior quite clearly popped the ball out with a knee in the tackle.  I will say that in general I lovvve the two ref system though. So fast! No video ref! It makes me happy in my pants. Sure we have an awkward moment where one ref calls knock on, and one calls play on, but I figure they can just resolve any problems like that in the same way we resolve problems in the Errol office. By mixing cocktails, watching movies and braiding each other's hair.
And much as we finished off the first half, Fui Fui Moi Moi farewells the game by absolutely smashing a Warrior, braids a-flying. Michael Luck gets carted off, and … curtain. 26-18.
Football, I'm so glad you're back.