6
December 14th, 2010
On the second day of Christmas
Oh Errol gave me to me….
Russell Crowe and Oprah Winfreeeeey
Look at the amount of awesome human in that shot. It's overwhelming! Now we love Oprah. Sure she's cheesy and over the top, but she's built an empire from nothing and is using her powers for good. Also she's openly pro-gay despite most of her audience being Middle America which is famously well, kinda anti-gay. And y'all know we LOVE the gays like no one's business.
And we love a bit of cynicism but the people pooh poohing her visit here are basically buzz killing shitheads. She's the Queen of the World people! She's never done a show anywhere else in the world….ever. Now stop being crap, grab a daiquiri from John John and join the party.
You all know how much we love Rusty. We've written about it a zillion times and fervently defended him on the radio (we like to think he listens to those recordings when he gets sad). We love the man. I think it's because that's exactly how we would be if we were rich and famous.
We would totally buy a footy team and get rid of cheerleaders and personally design the merchandise and create the Book of Feuds and narrate Ben Hur and make visiting celebrities come to games and cheer on our team and always bring up footy in every interview and have a sweet ponytail just be generally AWESUM.
SMH tell us that Oprah will join the fight for Greg Inglis. This is hilarious and amazing on so many levels. Mainly because imagine Russell trying to explain the NRL salary cap to Oprah. I would give my first born to hear that conversation. There's also a joke here about them sailing around on a boat and Greg Inglis got a free boat from the Storm but I can't quite find it. BOATZ! TWO OF THEM! HAHA!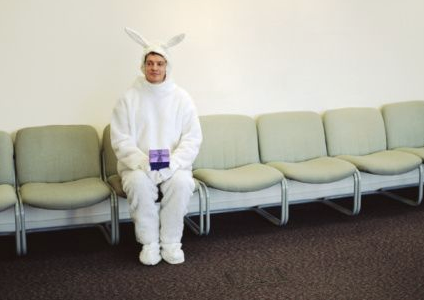 Apparently Roy Asotasi, Chris Sandow, Dave Taylor and Sam Burgess sat front row at the Oprah show. I'm unsure of whether they were interviewed or not, but I'm concerned about the American audience's capability to understand that festival of accents. Yanks have an issue understanding me. Whenever we're in the USA, I make Sassy revert to her posh private school accent and perform all the phone duties. Really.
Say what you want about Rusty, but the man is committed to promoting rugby league. You know what's not featuring on Oprah's show? AFL, rugby union, soccer and any other sport. And that makes me happy.