8
November 23rd, 2008
Yeah, this post is so late it's almost redundant. Soz, but I've been busy being a Triple M superstar. We are also having some serious discipline problems with our staff here at Errol HQ, which is severely affecting our productivity. Intern John John has been sent to a special Intern Bootcamp for his recent insolence. Intern Danny Wicks is being punished for his insurrections by having his daily food budget cut to only $200 and Work Experience Boy Lachie is currently sitting on the naughty step. IT'S A NIGHTMARE PEOPLE.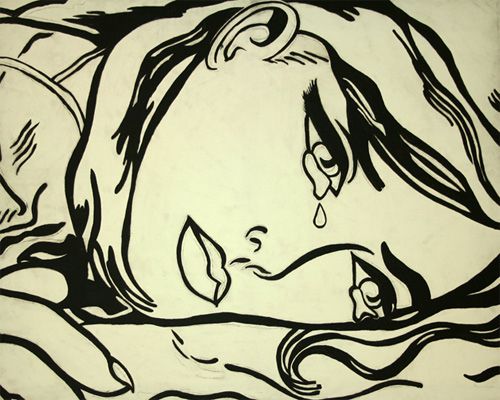 Anyway, onto the Irish. Our beloved Wolfhounds have well and truly left our shores and my heart is broke. Broke broke broke. Well at least it was. I think I'm okay now. I'm only bursting into tears twice a day. PROGRESS! As I've said repeatedly on Errol, I am not a particularly emotional person. However I am well … I'm kind of sentimental. I just get attached to things. People and objects.
When I travel I honestly can't bear to pack my precious vintage tees into my check-in suitcase. They must be on my person at all times. Suitcases get lost. It happens all the time. It's DANGEROUS. My cabin bag never contains toiletries … who cares if you lose your moisturiser?  You can always buy more. You know what you can't buy more of? Priceless Fleetwood Mac vintage tees, thats what. This sentimentality of mine can cause problems. Last time I returned from the US my cabin bag was chockas and I refused to risk trusting my precious vintage to baggage handlers so, well … I just wore it.
Much to Sassy's delight, I flew from LA to Sydney dressed in approx 4 layers, including a bright yellow vintage adidas tracksuit and carrying multiple shopping bags filled with hats. As we were checking in, Andrew G rolled up in a silver convertible and sauntered through with one bag. ONE BAG. He totally judged me with his eyes. Bitch.
ANYWAY, I get attached to shit. And the Irish boys were like the finest vintage tee money can buy. You wanna pack em in your bag and take them everywhere you go. Okay that sounded creepy, but you know what I mean. THEY ARE LOVABLE OKAY?
Marlo, Lozzy and myself were so invested in the boys' success that we travelled to the Goldy to watch the boys play their semi-final against Fiji. What a heartbreaking motherfucker of a game.
First of all the administrators of Skilled Park, in their infinite wisdom, decided to split up the Blarney Army into a million pieces. The boys kept looking into the stands for their wall of green love and NOTHING. And this time we weren't even close enough for them to hear our creepy/encouraging yelling. Obviously if we were, they totally woulda won.
The boys tried hard. Things were made difficult by the fact it was a godamn injury fest. Mick McIlorum (aka Irish Channing Tatum) made an awesome tackle but possibly crushed his chest cavity whilst doing so. Finn split his head open at some point. Tandy's nose leaked blood almost the entire match, and Scott Grix had his face ripped off his skull and literally BROKE BONES. It was like the Civil War out there people!
I half expected their trainer to emerge with a rusty saw, a flagon of whiskey and a hunk of wood for biting down and amputate legs right there on the sideline. Come to think of it, that would be kind of awesome. Maybe next time.
In summary, they lost. And our collective hearts broke. Unsurprisingly, we all reacted to this trauma by getting completely and utterly shitfaced together.  But in our defense it was their last night! AND THERE WAS FREE BEER! Well, the beer was free for the team and their entourage. In my mind that meant me. The other girls don't have the same charming sense of entitlement as me and actually PAID for drinks. Suckkkeeeers.
I also promised a few of you I would take photos, and I did! Except at some point I drunkenly accidentally changed the camera to black and white mode and couldn't see figure out how to change it back. So you get black and white photos.
Lets break this down shall we?
MICK-CASS IS JESUS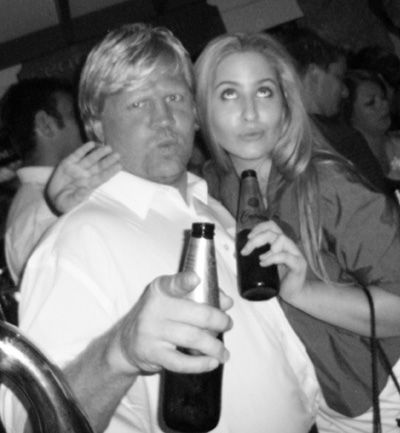 Otherwise known as Mick Cassidy, Mick-Cass was by far our favourite of the squad. Sure, he didn't get much game time but he did get lots of Errol girls time and THAT'S WHAT MATTERS. That's what he will be telling his grandkids about and you know it.
At 35, Mick-Cass is the oldest man in the World Cup … and possibly the world. He insists he isn't in fact the oldest, but whatevs.  Until we see a birth certificate for Stanley Gene we refuse to change our story. All I know is … he played in the 1995 World Cup. 1995! I don't think I even had pubes back then.
Reasons we love Mick-Cass –
1) He has a gut but he wears Speedos when training
2) He gives good hug
3) He wears beige Crocs because 'they go with everything'
4) He is the blondest man in the universe
5) He loves us
We adore him so much, Marlo decided to buy him a gift in the form of some accessories for his beloved Crocs. She trotted out in her lunchbreak and purchased two little pieces of Croc jewellery for him … one an Aussie flag and the other a four leaf clover. Here she is presenting said gifts: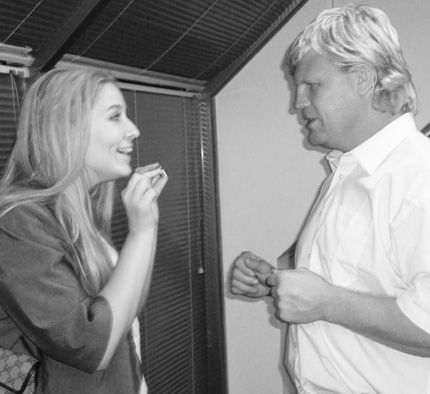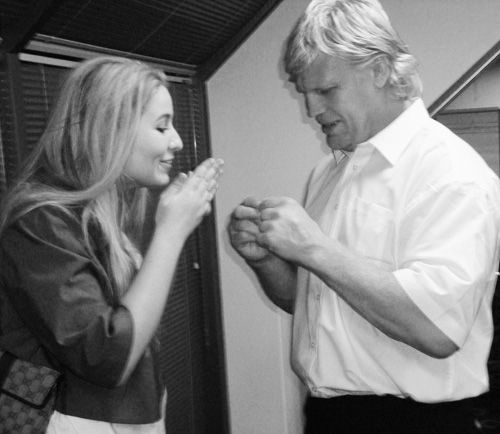 CUTEST.THING.EVER. 
Okay no, this is the cutest thing ever. Ladies and gentleman, I present to you – Mick-Cass and Hot Ginge Gleeson.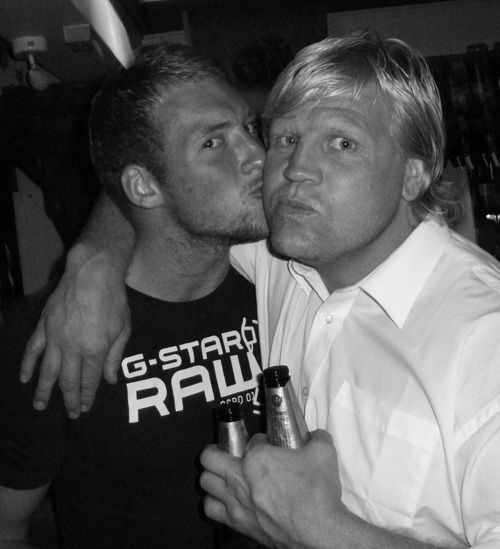 If you can find something cuter than that I will switch my allegience from Dragons to Sharks.
WE LOVE WAYNE KERR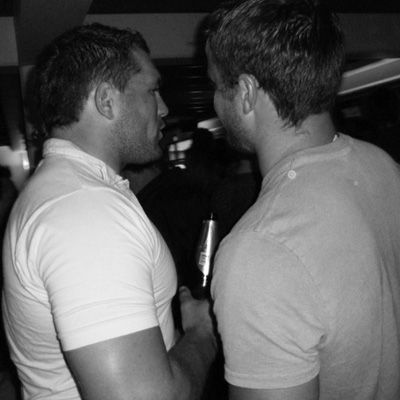 That's him on the left. And yes … that is his real name. Like Mick-Cass he didn't get much game time but we like to think us showering him with love made up for it. Since the boys went home we have met some people that have sworn he was a tool but to us he was AMAZING. We feel like … Wayne Whisperers.
To say Wayne is charming is a gross understatement. This bitch literally drips charm. I mean that in the least icky way possible. He is also kinda unhinged. The entire evening in the Goldy he would walk up to me, grab me by the shoulders and lick my cheek. From jaw to forehead. Then walk away WITHOUT SAYING A WORD. He did at least 4 times. And it was probably the highlight of my year.
He also immortalised himself on Marlo's t-shirt with the message: 'you make my rats tail curl'. WE LOVE YOU WAYNE!
WE MADE CHANNING TATUM SMILE
Otherwise known as Michael McIlorum, Ireland's answer to Channing Tatum was another favourite of ours. Despite the fact he is the surliest man in surly town, his mojo could be seen (sensed? can you see mojo?) from space. One sneer and a 'hello darlin' and we were goners. We also enjoyed his retro mid game stretching.
We like to think we won him over. Proof?
Profile photo on the official team website –
Photo taken when with us –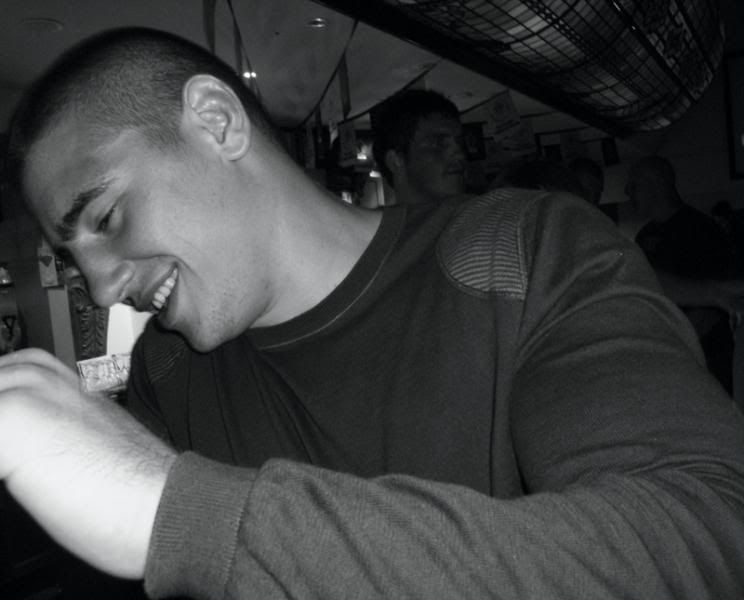 You can't argue with science.
And now for some more happy snaps from our Errol album!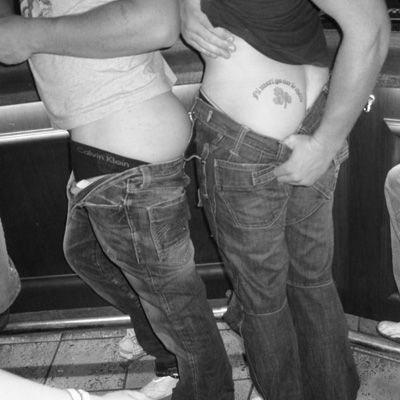 You're packed and you're stacked 'specially in the back
Brother, wanna thank your mother for a butt like that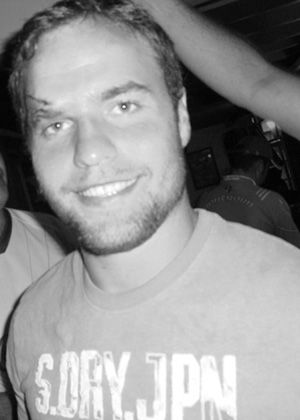 Liam Finn shows off his head wound.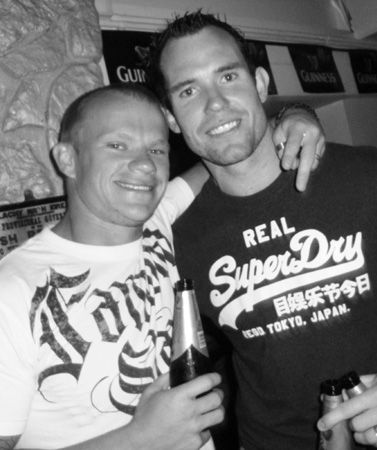 Blanchy and Pat Richards representing the Aussie born Irish contingent. We heart you boys!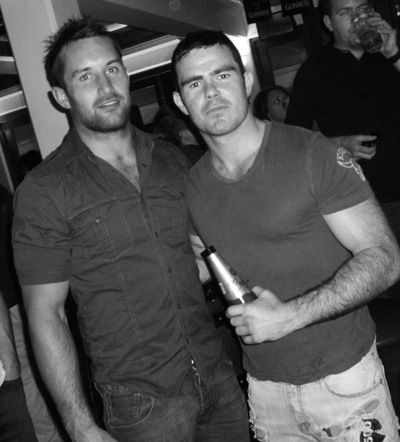 FM Forum favourites Bob Beswick and Karl Fitzpatrick looking supremely uncomfortable after I told them to pose for their gay fans. After a few beers Bob was decidedly less uncomfortable and began showing me his luxurious chest hair. He reminds us of a brunette Hot Bitch Cooper. Wait … can men be brunettes? They can now.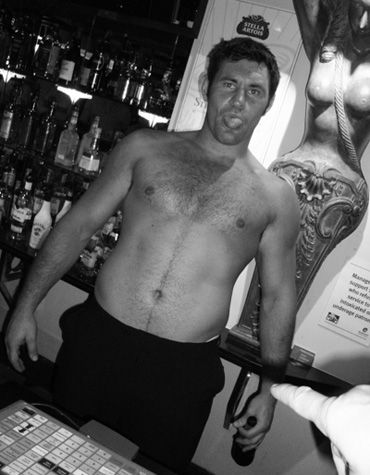 Gareth Haggerty shirtless bartending. Don't ask.
And that's about it. Well, I have more pics but they are definitely not for public consumption.
We had such an awesome experience with the Wolfhounds and the Blarney Army. They even gave us gift packs! Gift packs and free beer! LOVE! We feel so lucky to be invited along for the ride and we want to thank the boys for letting us hang around and annoy/molest them.
Everyone in the team was really committed and we believe they can do even better at the next World Cup. I just wish I didn't have to wait four years to get my face licked by Wayne Kerr.
[I'd like to add that while it was awesome hanging with the Irish boys, my own personal highlight was seeing Manly winger and Man We Love Michael Robertson. Just like, strolling by at the Goldy, apparently uniting with any old North Western European team since Scotland was kicked out. If you're wondering, he was SO lovely and even posed for photos with us, which I may or may not tape to my ceiling like I used to do with Hanson posters. – lozzy]